Malcomson Dentistry underwent a major facelift in October 2017. Dr. Malcomson treated patients in a remote office during that time. Our renovations took one month tom complete and now that we are settled, we are accepting new patients and welcoming existing patients into our new space. WAIT, new space? No, we are still located in Suite 415 of the Bethesda Medical Building. Same location, same level of expertise and care - with a new look.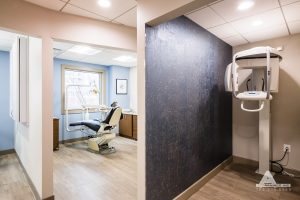 As with most modern dental practices, digital radiographs are "standard." Our digital Panoramic xray unit provides the patient with an in depth snapshot of their teeth, oral health and can provide other information not picked up on traditional bitewing / cavity detecting xrays. CLICK HERE to learn more about a Panoramic radiograph.
Each of our three operatories are equipped to treat oral hygiene patients, as well as perform restorative and cosmetic treatments. Whether your appointment is a routine dental hygiene visit (typically every 6 months), or you are choosing to replace amalgam filling(s) with composite restorations, Dr. Malcomson can do it. To learn about amalgam filling replacement(s) CLICK HERE.