What is Restorative Dentistry?
Restorative dental treatments encompass all of the disciplines that Dentistry offers with an integrated approach to achieve optimum oral health, full dental function and aesthetically pleasing for our Patients. Dr. Malcomson's expertise and 25+ years of experience in Cosmetic and Restorative Dentistry, helps to achieve the best possible long-term results for each Patient. When needed, an incorporation of endodontic therapy, oral surgery (extractions), periodontal care, dental restorations, and orthodontics - the patient will receive maximum benefits. Cosmetic and Restorative Dentistry includes a range of treatments, from whitening of a single tooth, to replacing fillings with composite and / or porcelain veneers, root canal therapy with a composite access filling or a zirconia crown. A temporary flipper replaces one or more teeth while a Patient heals prior to placement of an implant. A permanent bridge for three or more teeth, bone grafting and gum rebuilding are also restorative in nature.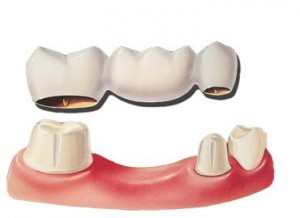 Bridges
A fixed bridge is fabricated with two or more crowns in the material selected. They are joined together, to include the adjacent teeth on either side of the missing tooth - these 'anchoring' teeth are called abutment teeth. The false tooth is called a 'pontic'. Fixed dental bridges are supported by natural teeth or dental implants. There are many available materials used in the fabrication of fixed bridges to satisfy a Patient's esthetic concerns, comfort, health and to regain full function of your bite. Dr. Malcomson will make specific recommendations, based on placement of the bridge and the Patient's lifestyle.
---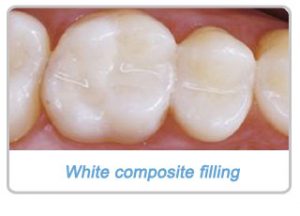 Composite Fillings
Composite fillings "match" the shade of a Patient's natural tooth. Composite is used to restore a chipped, cracked, discolored or misaligned tooth (teeth) by rebuilding the surface. Composite not only strengthens the tooth (teeth) when the defect or decay is repaired, but it also restores the area of decay, protecting the tooth from potential future decay. Dental technology continues to make improvements to the 'composite' material, by way of;  strength, durability and increased selection of colors.
When a Patient wishes to have their amalgam filling(s) replaced with composite, Malcomson Dentistry will provide a Treatment Plan, so that the Patient is aware of the associated fees and can plan accordingly. When the proposal is accepted, a second appointment may be necessary to complete a composite restoration. This natural tooth-colored material adheres to the tooth surface better than amalgam and Patients will no longer see a color difference when they open their mouth.
An inlay or onlay is a tooth-colored restoration similar to a crown, used to protect the biting surface of posterior tooth, where additional strength is needed. When restoring a tooth that has fractured or decayed, a composite tooth-colored restoration may be used to cosmetically change the size, color and shape of a tooth.
---
Crowns
A crown may be recommended to restore and protect your tooth. This procedure is often needed to protect the Patient's remaining tooth structure, and restore the tooth to it's original shape and size by "capping" the tooth. A tooth that has been weakened by decay; developed a crack or a fracture; one has experienced failure of a prior restoration or recently had a root canal may also require a crown.
Do I NEED a Crown after a Root Canal?
A crown may not be necessary after a root canal. Dr. Malcomson may recommend a crown to protect the weakened tooth from fracturing after root canal therapy and to protect the tooth by providing additional strength of a crown. The crown covers a damaged tooth, helps to prevent a filling from falling out and assists in preventing the tooth from potential cracking. A permanent crown seals the tooth and also helps to prevent infection and further decay.
There are a variety of materials used to fabricate a dental crown. Newer, stronger dental ceramics such as zirconia and porcelain have a natural, tooth-colored appearance. A Treatment Plan will be provided to the Patient, if Dr. Malcomson recommends this type of restorative procedure. After crown or bridge work, an occlusal guard worn at night, may be beneficial to protect your investment from unexpected breakage during one's sleep.
---
---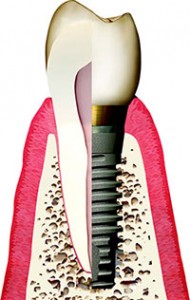 Implant Crowns
A dental implant is an alternate method of replacing a tooth that has required extraction. A dental implant can replace one single tooth, multiple teeth or can be used to support a fixed bridge, denture and partial denture. This type of restoration consists of two stages: extraction of the tooth (teeth) in question, followed by placement of a replacement tooth (teeth) root(s) by the Periodontist or Oral Surgeon. Once the specialist has released the Patient, he/she may then return to Malcomson Dentistry for the next step of the restoration process which is an impression to replace the missing tooth (teeth).
The first stage of the implant restoration involves placing a dental implant into the bone, and allowing healing time for the implant to fuse to the bone. It may be several months before the implant can be restored to a full tooth structure by way of an abutment supported crown. Once fully healed, Dr. Malcomson will take an impression to fabricate your custom abutment and implant crown. The custom abutment is directly inserted into the implant and then the crown is placed. A referral and a Treatment Plan will be provided to all Malcomson Dentistry Patients for all restorative procedures.
Duration of the Procedure
The duration of the procedure is highly variable, largely because healing time is often required between the stages of extraction to placing of the crown. In some cases, when there is abundant jawbone tissue and the patient is in good health, a specialist may offer "immediate loading".  In this single-day procedure, the implant and crown are placed simultaneously.
Most commonly, the crown is fitted several months after extraction and implant placement, allowing an implant adequate time to fuse with the jawbone. In cases involving bone grafting, the graft must first heal for several months before the implant can be placed. The implant must then integrate into the bone for several months before the crown can be adhered to the implant.
Implant Placement Procedure
While there is some variation in restorative procedures, the following steps are required for dental implant placement:The first portion of the procedure is done at your specialist's office. The gum covering the area is gently folded back and the underlying bone prepared to receive the implant. The extent of the bone preparation is dependent on the number of implants required. The implant(s) are placed and the gum area sutured. The implant should fully integrate into the bone after 3 to 6 months. At this point, a custom-designed crown is fitted over the post. The details of the procedure change slightly with the structure of the implant used.
---