Every spring and summer, my family and I would venture off to a new place, often not even having to go far to discover new places in the DMV.
Capitol Crescent Trail is a favorite among many, as it spans 11 miles of hiking, biking and walking, connecting from Georgetown D.C. to west Silver Spring in Montgomery County, MD. With numerous 'Points of Interest' along the CCT one will pass Fletcher's Cove (formerly Fletcher's Boat House) with boats & bikes to rent. Parking is available at Fletcher's Cove (mile 8.2). History can often be forgotten, however, at various mile markers along the trail, you will find plaques with important, yet hidden facts. In fact, the Capital Crescent Trail begins in an area heavily utilized by Confederate forces in attacking Washington. In July 1864, after two weeks of hard marching, General Jubal Early's Confederate troops, about 11,000 tired and ragtag men, staged a convincing assault on Washington, severely shaking up the Union leadership. The main body of Confederate infantry marched toward Washington from Frederick and Rockville to Silver Spring, while the cavalry continued on Old Georgetown Road through Bethesda to Tenleytown. Faced with strong fortifications at Tenleytown, the cavalry moved eastward across Rock Creek to the vicinity of Georgia Avenue to join the main body, where they attacked Fort Stevens, the center of the Union line of defenses, which was rapidly being reinforced by Union troops. During the attack President Lincoln visited Fort Stevens, where he barely missed being hit by Confederate sharpshooter fire. After two days of skirmishing, General Early withdrew to the north, having decided that the Union forces were too strong to be overcome. There were many casualties on both sides. 41 of the Union dead rest in the Battleground National Cemetery, in DC at 6625 Georgia Avenue, and 17 of Early's men are interred in the churchyard of Grace Episcopal Church, near the Trail at Georgia Avenue at Grace Church Road. (Fort Stevens is located in DC on 13th St. NW two blocks north of Military Road/Missouri Avenue. It's an excellent example of a Civil War fort.) Washington was the most heavily fortified city in the country at the time of the Civil War, and the forts and batteries mentioned below were part of Washington's defenses.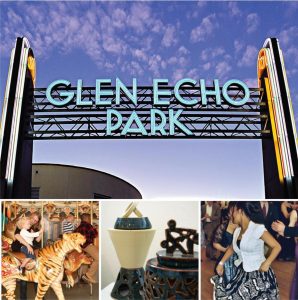 Glen Echo Park was first developed in 1891 as a National Chautauqua Assembly, which taught the sciences, arts, languages, and literature. The Chautauqua lasted for just one season, and by the early 1900s, the site had become Glen Echo Amusement Park -- the premier amusement park serving the Washington area until 1968, when it closed. In 1971, after the federal government obtained the land, the National Park Service began managing a new park on the site. The National Park Service collaborated with artists and arts organizations to create a rich arts program in the spirit of the original Chautauqua movement. Today the park is managed by the nonprofit Glen Echo Park Partnership for Arts and Culture, Inc. on behalf of Montgomery County, Maryland. The Partnership oversees the Park's arts and cultural programs and maintains the historic facilities. The National Park Service continues its role in managing the grounds and providing historic interpretation. Today, the park is host to many resident arts and cultural organizations, artist studios, a thriving social dance program, a restored carousel, and numerous classes in visual and performing arts.
Seneca State Park is a state-owned, public recreation area encompassing more than 6,300 acres (2,500 ha) along 14 miles of Seneca Creek in its run to the Potomac River in Montgomery County, Maryland. The park features facilities for boating and fishing as well as trails for hiking, cycling, and horseback riding. The park has 50 miles of trails, some in the CLDUA, and 12 miles in the Schaeffer Farm Trails area. Trails are used for hiking, mountain biking, horseback riding, and cross-country skiing. The Lake Shore Trail loops around Clopper Lake. The Seneca Creek Greenway Trail follows the entire length of Great Seneca Creek for 16.5 miles from Route 355 to the Potomac River. Nestled among residential neighborhoods off Clopper Road in Gaithersburg, Seneca State Park is a perfect location for family reunions, hiking or a cross country run around the lake, bike ride, and various water activities like: kayaking, canoeing, paddle boating, a tire playground, and a 27-hole disc golf course. During the holidays, the annual Winter Lights Festival has featured a drive-through holiday light show.
Cunningham Falls State Park located west of Thurmont, MD in the beautiful Catoctin Mountains is named for a 78-foot cascading waterfall. Hiking, swimming, hunting, fishing, picnicking, boating, playgrounds, 13 camper cabins, and you can even camp overnight. William Houck lake area has a 43 acre lake and trail to the Falls; Manor area includes Catoctin Furnace. The park is also home to the aviary at Cunningham Falls, as well as the annual Maple Syrup Festival. Some facilities are handicapped accessible.
The Catoctin Wildlife Preserve and Zoo is one of our family's favorites... Whether young or old, you are sure to enjoy seeing the avian exhibit, daily animal presentations, tigers, lions and bears, too. Everyone loves getting up close and personal with wildlife. The Catoctin Wildlife Preserve and Zoo is supported by the Global Wildlife Trust whose mission is dedicated to broadening human understanding of the animal world. This is achieved through immersion in naturalistic habitat recreations and educational programs using live animals and instructional tools both on-site at Catoctin Wildlife Preserve and Zoo and through presentations in the greater community. Striving to provide the highest level of competent care for its resident wildlife ambassadors and supporting the conservation of their wild counterparts in unspoiled habitats. CWPZ is committed to this mission, believing that in promoting harmonious coexistence of all species, it is all of our duty as stewards of the Earth. The best learning and the strongest memories are achieved through doing, not just looking. With that in mind, Catoctin Wildlife Preserve and Zoo has developed interactive animal presentations. Some of our most popular features are our Animal Programs and Encounters; times when Please make time during your visit to catch these unique opportunities to get close. You might even get to touch an exotic animal or learn more about it from the staff members who care for it. Photo opportunities are offered with some of the Animal Ambass-zoo-dors after each stage presentation! *Weather permitting, you can hop aboard a Safari ride between 11AM and 4PM, a Camel ride between 11 AM and 4 PM and a Feathered Feeding Encounter.
Daily Schedule:
10AM Keeper Talk at the Sun Bear Exhibit
11AM Animal Encounter at Conservation Theater
12PM Keeper Talk at the Kangaroo Exhibit
1PM Keeper Talk at the Alligator Exhibit
2PM Animal Encounter at the Conservation Theater
3PM Keeper Talk at the Tiger Exhibit.
Enjoy a fun summer in the DMV!
Andrea Phipps, Practice Manager