Dentures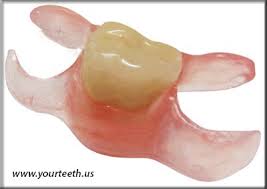 Valplast
Replacing an extracted / missing tooth will restore a Patient's jaw and bite to its proper functioning, while supporting facial tissue and tooth structure. Valplast was developed to provide patients a precise fit and the strength needed for a metal-free denture. Unlike metal, Valplast blends naturally with the color of a Patient's gum. If this is an option for you, an impression should be taken no earlier than 2 weeks after the extraction.
---
Interim Denture (Flipper)
Following an extraction, while waiting for the gum and bone to heal (prior to an implant and implant crown restoration). A Patient may elect to have an interim denture fabricated. A 'flipper' is the least expensive way to temporarily replace a missing tooth. The flipper is typically made made from acrylic, fabricated to match the shade of your natural teeth. Consult with Dr. Malcomson to determine if this is a possible option for you. If so, an impression will be taken and a lab will fabricate the flipper, so that it can be placed by the specialist, on the same day as the Patient's extraction.
---
Removable Partial Denture
This removable denture can be made with acrylic and sometime with lightweight metal clasps and framework. Lightweight resin material and metal is used in combination for increased retention. The framework's function is often secure when used in conjunction with two to four dental implants. Replacement teeth are fabricated with acrylic, offering more shade selections, creating a natural appearance with greater wear, in addition to the benefits of strength and function.
---
Removable Full Denture
When it becomes necessary that a Patient's remaining teeth should require removal, a full denture may be the best treatment plan for a Patient. While the denture is a removable appliance, it is utilized to replace missing teeth and restore a Patient's smile. If you've lost most of your natural teeth, whether from gum disease, tooth decay or injury; replacing missing teeth will re establish your natural appearance and your overall health. Dentures facilitate chewing and speaking - things that we often take for granted. Without, facial muscles begin to sag, and facial structure can alter ones appearance. A denture can be made to closely resemble your natural teeth, so that your appearance does not change much. Dentures may even improve the look of your smile!